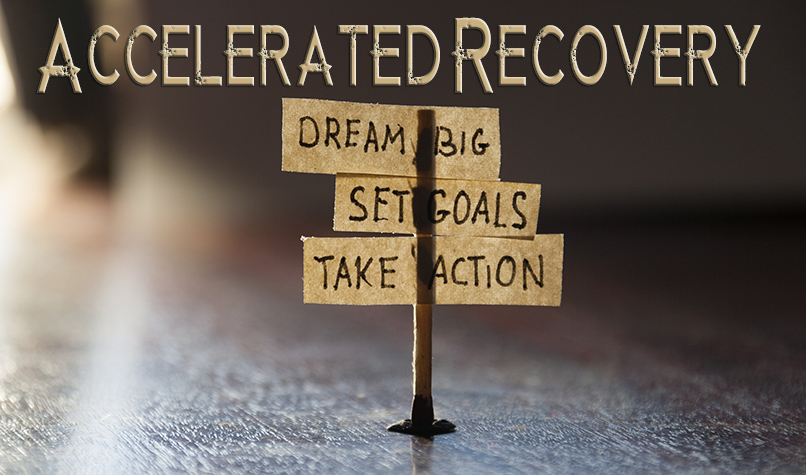 Accelerated Recovery Program – (ARP)

You've tried multiple recovery programs. You've started and stopped sobriety too many times to count, perhaps lived in several different sober living programs, but the truth is you just can't seem to stay sober. Perhaps you're even feeling depressed and hopeless because you find yourself right back here again. You feel like you are never going to get it, no matter how hard you try.
Let's get a really clear picture. Write down all of the treatment programs, detox's, sober living, clean time attempts outside of treatment you have had up to this point. All of them and then next to each one, how far did you get in your steps and what kind of changes did you really make? Emotionally, Mentally, Physically, Spiritually, Financially, Socially. Did you really complete the program or did you check out early?
Chances are, unless this is your very first time in recovery, you might have made it to step 3 or 4. You really haven't completed any programs and if you have you really didn't do any changing. You held onto lurking notions and never really submitted to the process of recovery. This is the story we hear over and over and over again. It's my story. The process of recovery is not easy. It takes commitment, it takes follow through and it takes structure. To bring all of that together and help the recovering addict stay focused and positive it takes some time and some daily, focused direction.
We have helped many addicts and alcoholics recover and change their lives and there are only a few things that must be in place to give the person the best chance of recovery. We have developed a program that is designed to manage those few things and make sure they are in place before the individual
This track is designed to provide a higher level of care, accountability and structured attention to detail to make sure vital elements of transitional living and recovery are in place and regimented to a level that can be sustained to greatly improve the chances of success.
Daily actions and structure are developed in a customized manner for each resident to accommodate scheduling and other necessary needs the client may have.
The program is a minimum of 12 weeks long and when the client is ready to transition into our core sober living program they will have a strong foundation and a firm grasp of the fundamentals, both for their continued recovery and within our community.
This is an intensive track with focus on life skills and fundamental recovery based processes that must be in place for successful, long term recovery. The daily regiment includes morning meditations to center and focus on the day, 12 step meetings are staff scheduled for the day and daily focus group with fitness activities included in the schedule as well.
In the event there are outside appointments that must be met, i.e. doctor's appointments, etc ., these are scheduled and monitored closely.
The focus of the program is:
Maintaining the structure and accountability of The Arches
Finding a competent 12 step sponsor
Beginning the sponsor relationship- daily calls / weekly meetings
Recovery focused workshops
Accomplishing daily tasks and recovery based homework
Maintaining a timely discipline to meetings and appointments
Community involvement and peer relationships
Action based disciplines in group meetings and interactive processing
Building a solid foundation of early recovery disciplines and network
Managed job search – In the third month
Budgeting and Money Management – In the third month
Another important element in this track is the family involvement. We want to have family members involved within the recovery process and incorporating a few family meetings during this intensive process is very important for the client and the family. One of the most important meetings is in the third month, where we sit down to discuss progress and budgeting responsibilities with the client and the family.
Call 404-991-3575 for more details and program pricing.