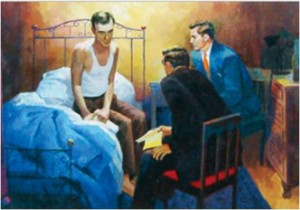 The process of completing the sober living program at The Arches Recovery Residences is multi-dimensional and comes with a variety of celebrations and transitioning fears. The celebrations are personal to each client depending on their life situation can be a very emotional process.
We are always excited and grateful when one of our clients reach the point of completion and graduation from our program but to have 4 men graduating at the same time is cause for extreme acknowledgement. In the world of recovery the process of working a thorough 12 step program always results in growth and improvement in the individual and usually in their loved ones relationship and literally all aspects of their lives.
This multi-dimensional improvement in one's life is incredible to witness and to be a part of the process is an honor and a blessing.
Deep Dive Into The Steps



Our program is designed to provide a safe and structured living environment to allow the client to do a deep dive into their step work while learning how to transition back into a productive lifestyle.
The timeline of The Arches program is a minimum of 6 months to process through the steps with a sponsor and be in position to start working with other addicts before you leave the program. This element of working with other people is vital to long term sobriety and, as it says in the Big Book, "when all other measures failed, work with another alcoholic saved the day".
These four men have accomplished these elements of the program and, in fact, continue to come back to our house meetings to give back and talk about what the transition away from the program is like. This is invaluable to our current clients to help them work through some of their issues and concerns as they move towards transition from the program.
We Are Grateful

As we continue to evolve at The Arches Recovery Residences it is empowering to see recovery in action and as the lives of our clients improve and grow the miracles and promises of the 12 step program are amazing.
Congratulations to all of our graduates and thank you for continuing to give back and support our program.